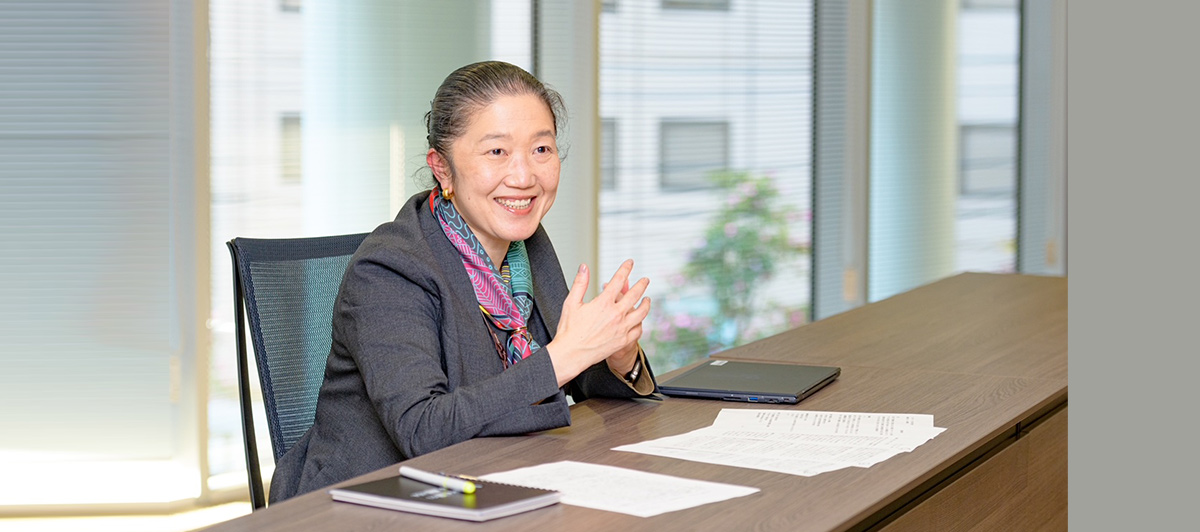 24 May

Building a strong tomorrow
MASUDA JUNKO, DIRECTOR GENERAL, JICA AFRICA Department, SPEAKS ABOUT THE FAR-RANGING EFFORTS THIS INSTITUTION HAS MADE TO BRING DEVELOPMENT, NOT JUST TO THE REGION, BUT TO THE CONTINENT AT LARGE.
Africa is known to have an abundance of natural resources and will also be the epicenter of population growth in the coming decades. How have you seen the continent evolve in terms of industrialization over the last ten years? Where do you see the biggest opportunities for growth and what major challenges are still being faced?
The fourth industrial revolution is coming to Africa. Digital transformation is progressing, and we observe many leapfrogs emerging. So many young African entrepreneurs are quite active in starting new innovative businesses, and more foreign investors, including Japanese ones, are coming to Africa to partner with them. For example, Google and IFC, World Bank Group's private sector investment arm, forecast that Africa's internet economy will reach $180 billion by 2025, and it is estimated that the total investment to Africa's start-ups has more than tripled, from $1.4 billion in 2020 to $5.2 billion in 2021, even under the spread of Covid-19 pandemic.
Against this backdrop, the 7th Tokyo International Conference on African Development (TICAD7), which was held at Yokohama in 2019, centered its main theme around innovation, calling for "Advancing Africa's development through people, technology and innovation."  Since then, JICA has been supporting African start-ups and venture businesses through the new initiatives of "Project NINJA" and "HGS Accelerator".
"Project NINJA (Next Innovation with Japan)" aims at strengthening start-up ecosystems in developing countries. In 2020-2021, JICA held a business plan competition titled «NINJA Business Plan Competition in response to COVID 19» in 19 countries in African in order to support start-ups that will create innovative business models and technologies for the post-Covid era. There were a total of 2,713 applicants for the competition, and 69 companies were selected to receive JICA support for proof of contest of their business ideas. Furthermore, 10 companies were selected as the finalists of the competition and joined a pitch event organized by JICA to present their business models to Japanese investors.
"Home Grown Solution," or "HGS Accelerator," is a program launched by AUDA-NEPAD in response to COVID-19, and JICA has been supporting this program since its inception. This program provides practical business support to African start-ups and SME in the healthcare sector. This program aims, as its name "Home Grown Solutions" suggests, at supporting African companies with home-grown products and services that address healthcare issues and contribute to strengthening Africa's pandemic resilience. Thus, the idea behind it is to promote products and services made in Africa, for Africa and by Africa, thereby reducing its reliance on imports. Last year, HGS Accelerator supported five companies in East Africa as a pilot, and each of them demonstrated tangible growth after the six months of intensive support. For example, Revital, a Kenyan medical supplies manufacturer, raised about $7 million from private investors and foundations, including a Japanese venture capital company. Consequently, they were able to increase the production and now export their products outside of Africa.
Can you describe Japan's past contributions to Africa's development?
JICA has been working with Africa for many years to realize human security and quality growth. Under its motto, "Leading the world with trust," JICA also has contributed to building a strong bond between Africa and the rest of the world. This is something which we believe is an important foundation for Africa's long-term development and peace.
Reflecting our experience on the ground, there are three major added values that JICA has brought to Africa through our cooperation. The first is the people-focused approach. JICA has been tackling Africa's development with focusing on African people on the ground. In doing so, we have been building our efforts on the principles of "human development," which means how we can/should development each human's potentials and capacities, and "human security," which means how we can/should protect every people's life, liveliness and dignity.
The second is to respect and enhance Africa's ownership for development. Our cooperation has been mutual cooperation for development, not unilateral "aid" or "assistance" which are given from "donor" to "recipient." We always respect Africa's development needs and initiatives, work together with African governments and people on the ground, and promote self-reliant and sustainable development of Africa.
The third is to share the Japanese development experience with African partners. In the late 19th century, although Japan was lagging behind in industrialization at the time of the Meiji Restoration in 1868, Japan succeeded in building a free, democratic, peaceful and prosperous nation under the rule of law without damaging its own traditions and identity. JICA's cooperation is largely underpinned by Japan's development experience, namely the belief that the lessons of Japanese modernization can be of great help to many African countries seeking their own development policies and strategies while keeping their own cultures and traditions. We have been mobilizing our experiences and know-how, like Kaizen, Rice production, as well as social welfare like universal health coverage (UHC) and quality education.
Can you tell us some success stories of JICA in Africa? As well, what are some expectations for the future?
First of all, I would like to raise two medical research institute projects in Ghana and Kenya, as good examples of our cooperation to combat with COVID-19 pandemic in Africa. In 1979, Japan supported the establishment of a medical research institute in Ghana, commemorating Dr. Hideyo Noguchi, who died in Ghana due to an infection of yellow fever, something which he had been researching there. Since then, we continue to provide technical and financial cooperation to strengthen the research capacity of the institute. During the pandemic, we collaborated with the Noguchi Institute in Ghana and with the Kenya Medical Research Institute (KEMRI), the other JICA flagship medical cooperation project in Africa, to strengthen their testing and diagnostic capacities. At the peak, the Noguchi Institute conducted 80% of domestic PCR tests in Ghana, and KEMRI conducted 50% in Kenya. Both institutes played a central role in combatting the pandemic in these countries, as well as with supporting their neighbors. As we are supporting some other medical research institutes in Africa, it is expected that we promote networking these institutes across the continent.
The Coalition for African Rice Development (CARD) is a good example. In TICADIV (2008), JICA proposed an initiative to African countries, international organizations and research institutes, aiming to double rice production in Sub-Saharan Africa from 14 million tons to 28 million tons in ten years (2008-2018). This initiative successfully achieved the target in 2018. For the next step, JICA announced to start CARD2 in TICAD7, aiming to re-double rice production from 28 million tons to 56 million before 2030. In addition, JICA called for "RICE" approach, or, Resilience, Industrialization, Competitiveness, and Empowerment.
Kaizen is also a good example. Kaizen is a Japanese word which means improvement and is recognized worldwide as a method for private enterprises to improve their productivity and management. The Kaizen method contributed a lot to Japanese rapid economic growth in the 1960s through the 1980s. JICA started the first Kaizen project in Singapore to accelerate economic growth in Asia. In 2006, JICA started the first Kaizen project on the African continent with Tunisia. Since then, a number of African countries have started the Kaizen projects, and Kaizen has become a continental initiative at TICADVI (2016). This initiative, jointly chaired with AUDA/NEPAD, is successfully disseminating the Kaizen method and its spirit in the African continent. The Kaizen initiative is expected to expand its scope from productivity improvement to business development, including financial access for firm capabilities to totally promote private sector development in Africa. In the coming decades, Kaizen will support African local industries and businesses to grow even in more competitive conditions under the AfCFTA.
The recent good example is our peace building cooperation in the Northern Uganda. This region has been struggling for socio-economic reconstruction after a conflict with terrorist groups. In addition, it has been accepting refugees from South Sudan and the Democratic Republic of Congo (DRC) for several years. JICA is supporting local governments and people's efforts for reconstruction and their assistance for refugees. This approach needs very comprehensive and continuous efforts, as well as close collaboration with the local governments and people on the ground. Last year, some deputies in the Ugandan parliament proposed to adopt a statement of appreciation and thankfulness to Japanese cooperation in this region. Finally, the statement was adopted to express appreciation for the all Japanese cooperation with Uganda.
In regard to expectatins for the future, we are expecting a lot of potential from Africa's young people. In this context, I can raise our "School for All" initiative as a flagship for quality education. In this initiative, we have been promoting school management practices based on the strong support of communities as well as a participatory, democratic process. «School for All» contributes not only to expanding educational opportunities and improving the quality of learning, but also for improving children's nutrition by providing them with school meals as well as hygiene practices through sensitization on the importance of handwashing. The «School for All» initiative can be described as a model of cooperation that fosters the freedom of children to open up their futures themselves through community ownership and trust in society. This initiative has been expanded to about 70,000 schools in nine Sub-Saharan African countries.
What have been the outcomes of Japan's contribution to the COVID-19 pandemic?
One remarkable outcome is that African institutions that have been partners of the JICA for many years have played important roles in the response to COVID-19 crisis. JICA has been collaborating with Kenya Medical Research Institute (KEMRI), Noguchi Memorial Institute for Medical Research in Ghana, and some other institutes and laboratories since the 1980s to strengthen their healthcare research capacity, especially on infectious diseases. In the early stage of COVID-19 pandemic, these institutions contributed a lot to promote PCR tests in their host countries as well as neighboring countries.
Another outcome is that African start-ups and companies that would contribute to enhancing Africa's pandemic resilience have seized opportunities to grow under JICA's cooperation.  For example, Emergency Response Africa (ERA), a Nigerian healthcare technology company providing fast, safe and affordable emergency medical care across Africa, obtained a chance to present its business plan to Japanese companies and investors. In addition, Revital, a Kenyan manufacturer of essential medical supplies and consumables, succeeded in receiving a $7 million investment through a joint initiative between JICA and AUDA-NEPAD.
Do you have any final comments for readers of The Japan Times?
The year 2022 should be the time when the world overcomes the COVID-19 crisis and embarks on the post COVID-19 era. Going forward, we need to accelerate our efforts to achieve the Sustainable Development Goals (SDGs) by the target year of 2030. At this historical turning point, TICAD8 represents an extremely important opportunity for Africa, Japan and the international community to work together to overcome the challenges Africa faces and to rebuild societies in a way that is more secure. Toward TICAD8 and beyond, JICA will be going forward with our motto, "Toward a resilient, inclusive, and prosperous continent: Africa-JICA collaboration to build forward better."