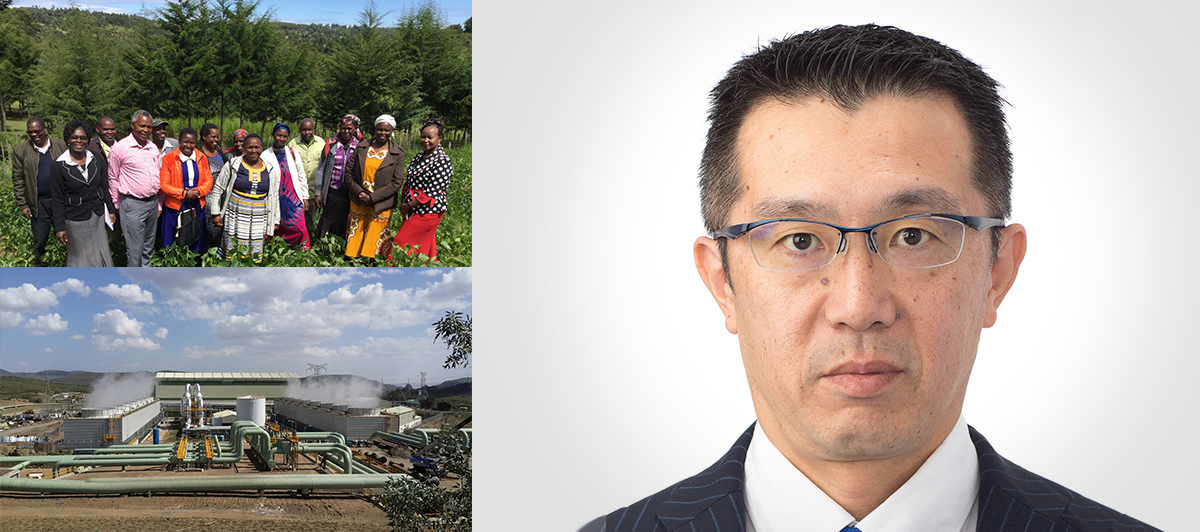 02 Mar

Inventing tomorrow's infrastructure
Iwama Hajime, Kenya's Chief Representative for Jica (Japan International Cooperation Agency), shows how cooperation between nations can lead to untold progress and a brighter future.
What are main ways in which Japan is supporting Kenya's growth via development assistance loans? What are the Japan International Cooperation Agency's (JICA) major targets to help Kenya achieve its goals as outlined by Vision 2030?
The unique and dynamic nature of Japan's support to Kenya's growth and development is firmly anchored in the Kenya Vision 2030 and consistent with Japan's official development assistance (ODA) policy. JICA's cooperation toward Kenya focuses on the fields of infrastructure, energy, health, education, agriculture, climate change, environment, water and sanitation, as well as private sector development. The financial and technical support will enhance transportation within the country and across the region, will support the generation of clean energy to meet the power demands, and and will provision equitable and affordable health care. Kenya is the leading recipient country of Japanese aid in sub-Saharan Africa by technical assistance, grant aid, and concessional (ODA) loans. The current committed ODA loan portfolio is approximately $2.5 billion.
What major success stories would you like to highlight in terms of Japan's contribution to Kenya's overall growth? What projects are you most proud of?
Japan's contributions to Kenya's infrastructure and energy sector are critical to national growth and human welfare. By utilizing Japan's accumulated experience and knowledge of quality infrastructure and human resource development, Japan and Kenya have been able to launch many projects to build an inclusive and sustainable future.
The Olkaria project best exemplifies the financial and technical cooperation aspects of Japan's ODA to Kenya. JICA has been supporting the development of geothermal power because it is a renewable, clean, low-cost and stable source of energy. JICA's committed financial support contributes to the development of more than almost 50 percent of the estimated 823MW total installed geothermal power capacity. In addition to infrastructural support, JICA has also facilitated capacity building to more than 300 Kenyans in geothermal development. The concepts of human security and quality growth are key guiding principles embedded in the Development Cooperation Charter and JICA's mission.
JICA's interventions in agriculture and rural development, water, sanitation, and the cross-cutting climate change sectors have unprecedented positive impacts on the lives and livelihoods of ordinary people, both in Kenya and beyond the country's borders.
Smallholder Horticulture Empowerment and Promotion (SHEP) projects have immensely contributed toward market-oriented agriculture by changing farmers' mindset from "grow and sell" to "grow to sell." The project has successfully run in four phases since 2006 to date, positively influencing the livelihoods of more than 24,000 farmers in more than 20 counties across Kenya. The agriculture sector is the backbone of Kenyan economy, with almost 70 percent of the rural population of smallholder farmers engaged at this work. Therefore, efforts to improve their livelihoods has a direct and concrete impact on rural development and the growth of the agriculture sector. Currently, 26 countries across the African continent, as well as other regions such as Asia and Latin America, have implemented the SHEP Approach.
While there are concerted efforts that promote market-oriented agriculture, JICA is also committed to promoting harmony between human activity and the natural environment by mitigating the adverse effects of climate change at various levels; this includes enhancing communities' resilience.
Kenya is over 80 percent arid and semi-arid (ASAL) and therefore extremely vulnerable to climate change shocks and stresses that undermine human security. In view of that, over the past 37 years, JICA has continuously supported development of both institutional and individual capacity for forestry research and extension in Kenya's ASALs. With regard to research, JICA has invested a lot in collaborating with the Kenya Forestry Research Institute (KEFRI) to scientifically breed drought tolerant indigenous tree species. That, among other activities, has greatly contributed toward establishing KEFRI as a center of excellence in the region. In terms of extension, farmers in ASALs have been thoroughly trained in social forestry practices in over 350 forestry Farmer Field Schools since 2004, to not only increase tree cover in the country but also to improve peoples' lives and livelihoods through utilization and sale of both wood and non-wood forestry products such as seedlings.
JICA's interventions in the forestry sector have extended beyond Kenya through Third Country Training Programs (TCTP), under which 511 participants from 21 countries in the East, Central and Southern African regions were trained on numerous aspects of forestry, including mitigation and adaptation to climate change through social forestry. JICA has also been actively supporting Kenya as the hub for Horn of Africa countries in the African Initiative for Combating Desertification to Strengthen Resilience to Climate Change in the Sahel and Horn of Africa (AI-CD).
Recognizing the harsh conditions faced by pastoralists living in extremely arid areas and their high vulnerability to climate change, in 2013 JICA diversified its climate change interventions by including the concept of resilience to address human security. In this area, JICA supported implementation of projects focusing on the key issues of natural resources management, livestock value chain, livelihood diversification and peace building that are core to improving the quality of life and resilience of communities living in Marsabit and Turkana counties, these being the largest in the country and among those classified as 100 percent ASAL.
What future projects are you most excited about?
JICA Kenya Office recognizes Mombasa City as the main gateway to the country and the Northern Corridor that links Kenya to the larger East African region. JICA has focused special attention on the development of the city's port and road infrastructure. This approach has combined both ODA loans and grant aid schemes.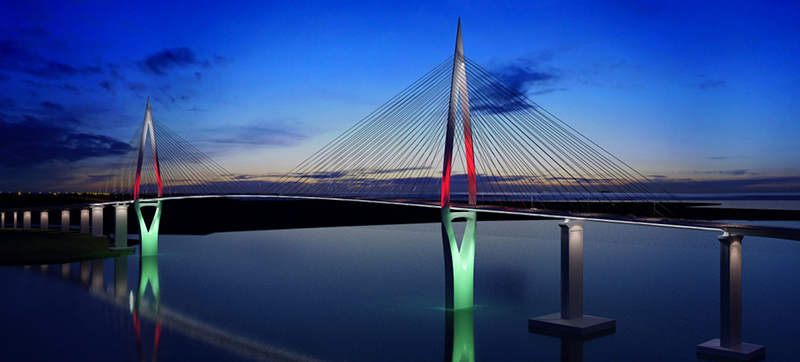 Phase 1 started in 2007 and involved the expansion of the Mombasa Container Terminal Project, which increased the port's annual container handling capacity by 550,000 twenty-foot equivalent units (TEU) after its completion in 2016. Subsequently, JICA provided the $220 million ODA Loan to implement Phase I of Mombasa Port Area Road Development Project, whose objective was to unlock congestion by vehicles transporting the increased volume of cargo from the port.  Following completion of the project in 2018, the transit time from Mombasa to Uganda was reduced from two weeks down to five days. In September 2018, a $266 million loan commenced the Mombasa Port Second Container Terminal Project and is expected to place Mombasa Port as the largest in the region handling 2.5 million TEU annually. The MGB design presents an iconic structure featuring a cable-stayed bridge that will support four traffic lanes suspended 69-meters high at the midpoint to allow ample space for ships to pass underneath on their way into and out of the Kilindini harbor.
Mombasa Gateway Bridge will be a 13.2km development inclusive of approach roads and will connect Mombasa Island with the south coast. Infrastructure development focusing on the port of Mombasa, and an investment environment improvement in the special economic zone, is expected to function systematically as a network and drive regional economic development.
Japan has played a vital role in aiding Kenya throughout COVID-19. Could you give our readers a sense of the measures that Japan has provided to Kenya to help combat the pandemic? What outcomes have you seen from this support throughout this challenging time?
Japan has supported Kenya's fight against COVID-19 through various interventions. Through JICA, it has so far donated 125,000 PCR test kits to the Kenya Medical Research Institute (KEMRI) to boost its laboratory capacity for COVID-19 testing as part of the national response. It also provided financial support to the institute to conduct targeted training on preparedness and response to infectious diseases, reaching up to 151 laboratory personnel from the 47 Counties. In the technical areas, JICA experts are also contributing to the COVID-19 response in Kenya. A JICA expert is currently working in the Ministry of Health conducting research and assisting in the implementation of disease surveillance systems. His work assists in the reinforcement of Kenya's institutional capacity to implement policies and to conduct research on COVID-19. JICA has been a key partner with KEMRI in supporting human health research, technical capacity building, research advancement and development in the country for over 40 years. This support led to development and production of essential diagnostic kits for diseases such as Yellow Fever, Rift Valley fever, HIV and Hepatitis, among others. In February 2022, KEMRI released its COVID-19 test kit, known as KEMcov-19. JICA hopes that our long-term support was helpful to KEMRI in developing this COVID-19 test kit.
Do you have any final comments for readers of The Japan Times?
The needs of Kenya and Africa have been transforming over time. Therefore, JICA is willing to think and work together with them at the closest position on the ground. JICA Kenya Office will continue to support the government of Kenya toward achieving the aspirations of Vision 2030 by not only utilizing the accumulated knowledge and experience from implemented projects, but also by thinking and acting strategically, and innovating with our partners in order to contribute toward realization of JICA's Vision of "Leading the World with Trust."